Latest Challenge

Have You Put On A Few Pandemic Pounds That You Would Like To Take Off Before Summer? JOIN our 8 Week  Challenge!
Our Latest Challenge begins Monday April 5th and ends May 31st! It's a 60-day Challenge to help you get into shape before summer!  We can't wait to get those pandemic pounds off and start a whole new health and fitness routine.  This is what is included…
We team you up with a partner to help motivate you and reach your goals.  This partner can either be a friend or we can pair you up!
Closed Facebook Group where you can get motivation, tips, recipes and more!
E-Book that will give you information on losing those pounds and getting healthy
Prizes!  We are giving away two 1st place prizes for the winners.  Work as a team and you both might win the prize! We are giving away two COWGIRL CUFF bracelets to the team winner and individual winner! ($38.95 value!)
FUN and Friendships! You get 60 days to be around some of the most fun-loving cowgirls you will ever meet, while getting healthy!  Long-time friendships have been made from these challenges.
Prizes are similar to the cuffs below!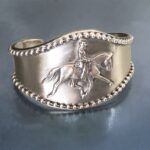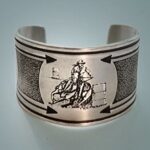 We've had a lot of success stories and here are just a few of them!